1984>1985 era - drum kit
* Information per Modern Drummer magazine // August 1985 by Connie Fisher *
CF: tell me about your kit setup.
Larry Mullen Jr: the drums and hardware are Yamaha [9000 Recording Series drums]. We're always changing things, but right now I've got my usual 24" bass drum, an 18" floor tom and a 14" rack tom on the left, one 16" floor tom on the left, one 16" floor tom on the right, and an 8x14 snare. I've also got two Ludwig piccolo snares and another piccolo snare custom made by Eddie Ryan in London. The drumheads are Evans Black Golds. I've got two Latin Percussion timbales and assorted Latin Percussion instruments. ALl the cymbals are Paiste: an 18" 2002 Heavy Crash, two 18" Rudes, a 20" Rude, a 2002 China, and 14" Sound Edge hi-hats...
CF: You obviously have a strong preference for the natural approach to things. Have you tried any of the electronic drums?
LMJ: Yes. I don't like them much. I don't want to limit myself and say I'll never use them. For arenas, we've started using a SDS7 Simmons triggered by the acoustic drums, just for sound reinforcement. I'm not really into it, but if we rely on the mic's too much for the up-front sound, there's too much ambience and the drum sound gets lost. The Simmons just tightens up the sound. We don't use it on every song, and there's no Simmons sound as such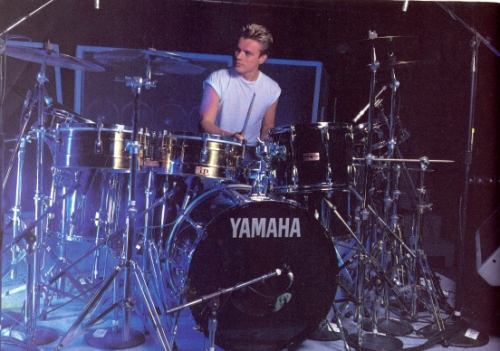 * information per Musician magazine 1985 *
Larry Mullen Jr. plays Yamaha drums, the Power recording series. He uses a 24-inch bass drum, a 14-inch rack tom, two 16-inch floor toms, one 18-inch floor tom and a 14x6.5-inch snare. he has two piccolo snares - one by Ludwig and one by Eddie Ryan, an Irishman who runs a London drum shop - and two Latin Percussion timbales. His cymbals are Paiste: a 2002 18-inch crash, two Rude 18-inch crashes, one 20-inch Rude crash, a 20-inch 2002 Chinatop, and a pair of 14-inch Sound Edge hi-hats.
Mullen uses all Yamaha hardware, Evans drum heards (usually Black Golds), and sticks designed by Cappella Wood in New Jersey. He occasionally uses a Simmons SDS7 triggered by hsi acoustic drums. He uses a click track (triggered from Edge's Oberheim DX) on "Unforgettable Fire" and "Bad".
International Musician and Recording World, December 01, 1984
The Stoking of Unforgettable Fire
By Daniel Lanois
Larry Mullen -- Yamaha drum kit with Paiste cymbals, miked with an AKG stereo mike (overhead), an Electro-Voice RE20 (kick), and AKG 414 (snare) and AKG 452s on the toms.

We experimented with some distant miking on the kit, sometimes from as far away as sixty feet. Larry uses two snares, one of which is called a piccolo, this three-inch-deep drum that has a sound like a gunshot. A lot of the drumming that sounds like a whole percussion section was just Larry, in one take, playing patterns on the two snares, the floor tom and two timbales. He really hit on some unique patterns; some of the world's primo jazz drummers would have a tough time delivering something like that. He really outdid himself; the strength is outstanding.

Throughout the record Larry had these very large, very loud monitors behind him; most of the time he didn't use headphones at all. And some of the drum sound spilled back through the mikes into the room. It was like recording a band in rehearsals, with Bono singing through the PA, which was so blaringly loud that if you walked in front of the cabinets and Larry hit his kick drum, it'd practically knock you over.
© International Musician and Recording World, 1984. All rights reserved.
* per U2 Magazine. Vol 10. February 1984 *
LARRY: Drums - Yamaha 9000 Recording Series. 24" bass drum, 18" floor toms, 16" floor toms, 14" rack toms, Yamaha 6"x14" wooden snare, 3"x 13" Ludwig Piccolo snare. All stands and fittings by Yamaha. Cymbals by Paiste, Rude Cymbals and 2002 series. Assorted Latin Percussion.
RECORDING SERIES SPECS:
All Birch Shell
Birch shells produce a lower fundamental tone than maple. Their crisp sound quality with short attack decay makes them optimal for recording situations. Our Air Seal System shells feature select birch wood cut in plies, positioned with staggered diagonal seams, and sealed together with evenly distributed air pressure. This process ensures that every drum shell is in round and of uniform thickness while providing superior tone quality and durability.
Hi-Tension Lugs
Precision-machined lug nuts provide noise-free control, due to their springless casing design. Manufactured as genuine one-piece units, our high-tension lugs have established one of the principal trends in modern design.
Bass Drum Spurs
A sturdy hexagonal design and fixed angle position allow our spurs to withstand bass drum kicks. Height adjustment and the releasing and retracting of the pointed spur are made easily with a drum key.
100% Birch shell
7-ply BD and 6-ply toms and snare drums
High-gloss lacquer exterior finish; matching hand-rubbed satin interior finish
High-tension lug casing
Air Seal System shell
Finishes available: Cherry Wood and Solid Black